Due to the lack of ability to sell in-person as much as we used to, more and more companies are seeking ways to create virtual experiences and remote engagement with their customers.
The human touch, even when virtual, is essential to sales success. In fact, the most memorable, meaningful content experiences are those that feel "human" even when accessed online or remotely.
That's why we reached out to Boris Maganic at 360Pros to understand how to create immersive content that makes a lasting, memorable and emotional experience for your customers. Boris' 3D and 360 immersive media goes far beyond the regular photos and videos that have been used up until now.
What is 3D and 360 immersive media?
For 360Pros, we bring our real world to life on your computer screen or device in a way that makes it feel like you are actually there. You can move throughout the environment and walk around, zoom in and view where you are in this virtual world. Most people have experienced something similar to this if they have toured real estate.
For most of our clients, this 3D or 360° immersive experience is meant to introduce a space, building or structure using a computer, tablet or digital screen.
What is the value for creating 3D virtual environments for structures that haven't yet been built?
A great example is how Not-for-Profit organizations and private or independent schools are making use of this technology to drive fundraising efforts. Imagine you are fund raising for an organization to improve the services they are providing by building or improving on a space in which they operate.
Instead of taking photos and sending them to prospective donors to show the "before" and renderings of the "after", you can use our 3D technology to show the space today and then overlay the design to see what it will become. To access the virtual space, all that is required is a link to the imagery that we've created on our immersive platform.
Donors can now walk into a current space and see how it will look after it has been improved by walking through the 3D simulation. It literally shows donors the possibilities of how their donations can make a difference. You can even provide donate buttons throughout the tour integrating it with fundraising efforts.
Not only does this technology bring spaces to life, it makes it easy to provide virtual tours to anyone anywhere in the world. A powerful tool at a time when people can't travel.
Can you track how 3D tour participants interact with the virtual world that you've created?
Similar to Google analytics, our 3D tours are overlaid with data analytics that show heat maps of where people tend to linger and look at spaces. This is very important for businesses so they can add value to the tour experience to drive sales.
For a retailer, they can place the highest value products or services in areas where you get the most traffic.
For B2B sales teams, they can best understand which equipment, spaces or products within a space are of most interest. In these areas, pop up videos that provide greater details enrich the tour along with sales copy to reinforce the benefits of what is being shown.
You literally can fine tune a virtual tour and learn from how people explore spaces.
Why should business and organizations consider using 3D Virtual Tours?
Virtual tours are selling your services, space and capabilities seven days a week 24 hours a day. They are self running and can link to Google Maps and Google Street View enabling customers to not only find you online but also enter your space to learn more. You can literally allow your customers to walk into your business.
For B2B customers that have prospective clients from around the world, 3D virtual spaces overcome the difficulty of air travel and crossing borders.
A great example is a manufacturer who typically tours prospects through their facility. Using 360Pros technology, a sales representative can launch the 3D tour on their computer, show it using online meeting software (such as Zoom or Google Meet), record the tour and then make this recording available to other people on the team making a buying decision. It becomes a valuable sales tool in literally bringing the manufacturer's capabilities to life.
Why offer the human touch, even when its virtual?
Most of us today can't do our jobs or see our friends without technology. We're all used to sitting in front of computer screens to get things done – especially during the pandemic. What Virtual 3D tours and technology offers is a way to be more high-touch and engaging when we are all experiencing digital "burn-out" from sitting in front of screens all day.
Our 3D technology continues to find new creative applications to help businesses thrive, such as facilities maintenance teams who manage multiple spaces being able to remotely visualize and communicate specific areas with contractors and third parties.
I expect more companies and organizations will embrace this technology far beyond the pandemic. The value of our 3D tours is that once they are filmed and processed, they are easy to share, use and track statistics to drive business.
Without a clear timeline for in-person interactions, 2021 may be the tipping point for this type of immersive, virtual experience to now become part of every marketers' tactics.
Discover for yourself how immersive 3D and 360° virtual tour production can streamline your marketing efforts. We have solutions that cross many industries from real estate, not-for-profits, schools, manufacturing and virtual learning – to name just a few! Examples can be viewed on our website.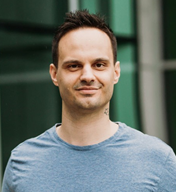 Boris Maganic, Chief Creative Officer
360Pros
Our gift to you – 360Pros is part of Pivot Point Marketing's team of experts. Mention this article to Boris, and you're entitled to a discount for your first immersive media tour.