Branding and Website Design
Pivot Point
Wavefront has evolved to become Canada's leader in business transformation through mobile and IoT innovation. Accelerate the growth and competitiveness of your business with their catalytic expertise, resources and connections to partnerships and global markets.
Industry
Mobile
IoT
High Tech
B2B

Services
Branding
Web Design
Public Relations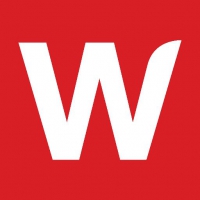 Project Description
Logo & Brand Elements
Evolving the Wavefront brand so it easily makes a connection between its expanded services and diverse target audiences was essential. Originally established as a local accelerator, Wavefront now provides comprehensive enterprise services and is the source for mobile and IoT thought leadership in Canada.
The original Wavefront logo that represented all services:

is now grouped with their service deliverable so entrepreneurs and start-ups can easily find their accelerator-specific programs at:

and enterprise clients can access the new generation of mobile business technologies that will allow them to be more competitive in today's marketplace.by going to:

Website
Their new portal page makes it easy to find the best mobile and IoT services for business transformation in Canada at-a-glance. This centralized landing page clearly shows Wavefront's strength in providing diversified business transformation services for mobile and IoT for entrepreneurs, start-ups and large enterprise clients.
Wavefront Portal Page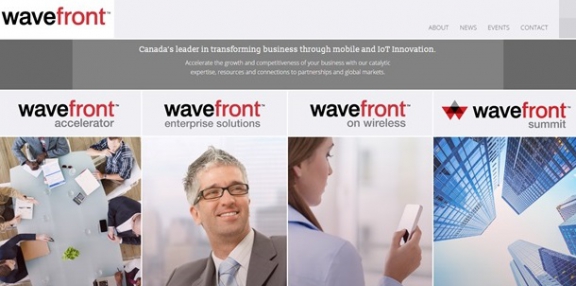 While their evolved Accelerator site ensures site visitors understand quickly and easily what services they can access to propel their mobile or IoT solutions.
Wavefront Accelerator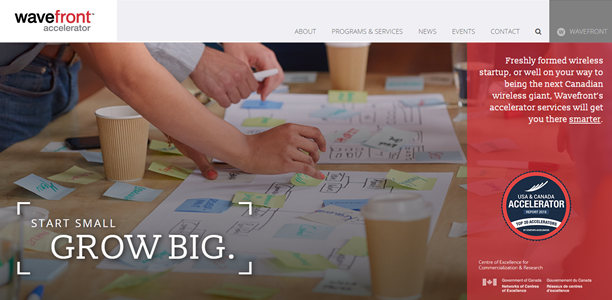 The success of this new website relies on outstanding design that uses site architecture that better groups services, programs and benefits directly from the homepage. The Wavefront ecosystem of partners can now be easily viewed directly from this page showing the company they keep and the trust they have established in Canada.
Wavefront's evolved Enterprise Solutions website uses the same look and feel of all Wavefront sites while pushing out new and innovative service offerings tailored to the needs of enterprise clients.
Wavefront Enterprise Solutions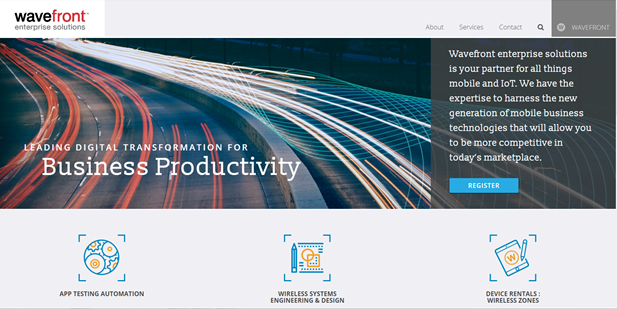 Public Relations 
Designing wearable devices that can withstand industrial IoT (IIoT) applications is an ongoing challenge for IoT solutions providers. Few wearable technologies and sensors are suitable for industrial working environments where hazardous conditions, such as extreme temperatures and pressure, make current wearables useless. It's a challenge that Vandrico, a Wavefront incubator company, wants to overcome.
Pivot Point Marketing interviewed key stakeholders and obtained placement of this article that not only promoted the benefits of working with Wavefront, but also highlighted Vandrico's "hardware challenge" to industrial wearables manufacturers.
PPM Services
B2B/P2P marketing strategy
Website development – Eggbeater Creative
Brand development
Campaign research & copy writing
Email copy writing
Webinar presentation creation/preparation
Public Relations
Working with Angelia was an exceptional experience! She is hardworking, dedicated and really took the time to understand what we needed to accomplish. I really appreciated her attention to detail in the research and preparation for campaigns/projects, as well her flexibility when needed. But probably what stood out the most, was her energy and empathy for what she was tasked with! She genuinely cares about her client's success! I look forward to working with Angelia on other projects!