Branding and Website Design
Suzanne Girard Travel & Communications
Pivot Point
Suzanne Girard Travel & Communications (SGTC) is a boutique agency that offers clients a unique combination of strategic tourism sales representation and travel media relations to achieve their specific sales and marketing goals.
Industry
Travel Trade
Tourism Sales
B2B
B2C

Services
Branding
Web Design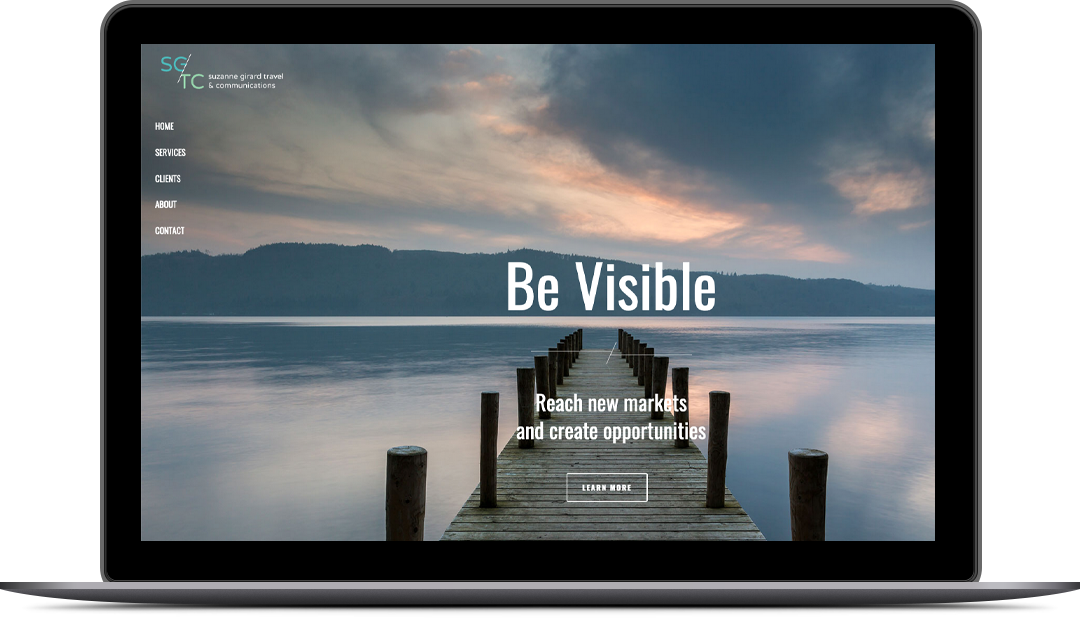 Project Description
Logo & Brand Elements
What sets SGTC's services apart from others in the market is her ability to seamlessly blend both business offerings to her clients. Using a 'split' concept visually represents these dual business offerings in SGTC's new logo, while the Modern Geometric typography reinforces stability and dependability. Supporting imagery establishes the tone and feel for working with this organization to 'be visible'.

Supporting brand imagery extended to business cards: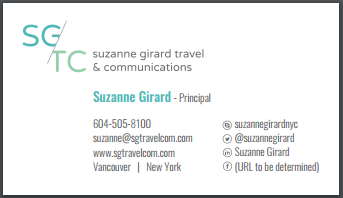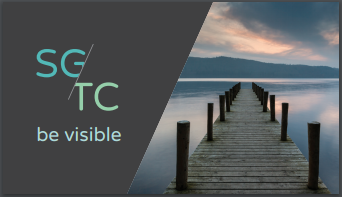 Website
Establishing your credentials clearly and effectively is what the SGTC website does for this organization. Once you arrive at the site, you clearly understand the benefits of how blending two unique services achieves results for Suzanne's clientele. It was important to show a snapshot of the variety of clients serviced by her firm, so client logos are featured along with key service offerings. The site is completely editable making it easy for SGTC to update customer logos and activity throughout the year as new business is completed. 
PPM Services
B2C/P2P Marketing strategy
Competitive analysis
Brand development
Website development and design – Eggbeater Creative
Corporate identity
Angelia was instrumental in the entire design and launch of my website. Through the entire process, her calm professionalism and expertise made each step move forward seamlessly. Angelia was the key link with the creative team – she knew all the right questions to ask and kept everyone on track and on time. And, no question from me was ever too small! Thank you Angelia.