Branding and Website Design
Pivot Point
Discover the Dorigo Advantage – Stability, Loyalty and Longevity was how Dorigo told their story in the electronics manufacturing market for over eight years. In 2020, the company moved to a 105,000 square foot world-class manufacturing facility. Not only did this new facility vastly change Dorigo's capabilities, but it launched their Seamless Customer Experience. Today, it is how Dorigo Systems works with their customers to bring the most innovative products to market.  
Industry
Electronic Manufacturing Services (EMS)
Contract Electronics Manufacturing (CEM)
B2B

Services
Marketing Management
SWOT analysis
Branding
Web Design
Events/Promotions
Sales Collateral
Public Relations
Social Media
Content Marketing
Wall Graphics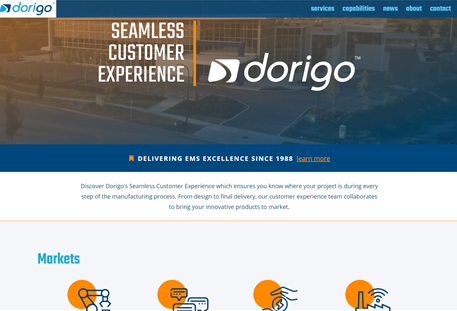 Project Description
Logo & Brand Elements
The Dorigo logo has become synonymous with quality in the EMS Western Canadian marketplace. The evolved logo builds on current brand recognition while emphasizing the company's 30 year legacy. The new emphasis on "go" in the logo makes a visual connection with the tagline "Your go-to EMS provider since 1988".

Website
In 2012, Dorigo's capabilities focused on why people should Discover the Dorigo Advantage – Stability, Loyalty and Longevity while providing a comprehensive list of current services and EMS expertise. A logo was created to celebrate the company's silver anniversary. All photos on the website are actual Dorigo employees at work.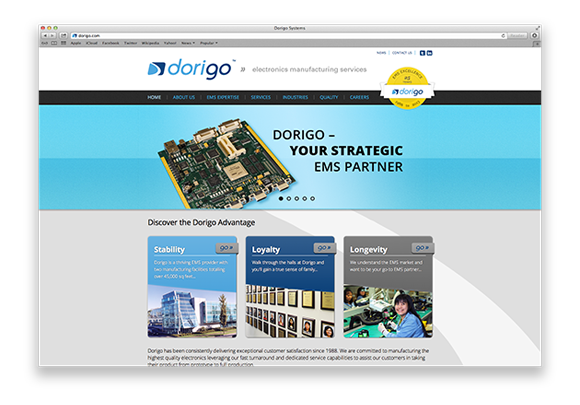 Evolved Website
In 2021, Dorigo launched its Seamless Customer Experience after moving into its new world-class electronics manufacturing facility. The evolved website features custom photography that showcases the new facility along with Dorigo's team of experts. Site visitors can clearly see what sets Dorigo apart in electronics manufacturing along with the value of choosing Dorigo's Seamless Customer Experience.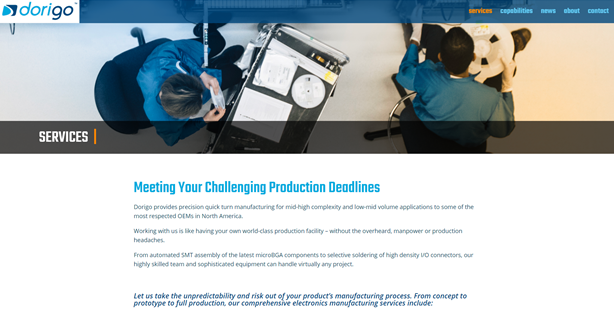 The Power of Content Marketing and Public Relations
Content marketing and Public Relations are key to Dorigo Systems' marketing mix. Amplifying Dorigo's message to North American press and online resources has promoted their strengths and unique value in the electronics manufacturing market place.
Recent content marketing projects include being  the news feature on both PLANT magazine and EP&T's website for "Reaping the Benefits and the Connected Factory" which details Dorigo's application of Industry 4.0 with the help of Aegis's Factory Logix software for connected communications. This article also landed Dorigo's VP Operations, Alex Chassels, in a webinar with EMSNow to further discuss the benefits of taking this journey.
Dorigo Systems was the cover story for the August 2020 issue of EP&T magazine, "Go Dorigo Go!". Pitching the publication, overseeing a custom photo shoot, prepping interview questions and providing a virtual tour of the facility were all provided by Pivot Point Marketing.   
Several case studies have been developed to promote Dorigo's expertise in the Electronics Manufacturing Services marketplace. Key technical industry publications were targeted. Dorigo customers were interviewed and PPM wrote, edited and pitched the editors at these publications.
Sample articles and press releases include: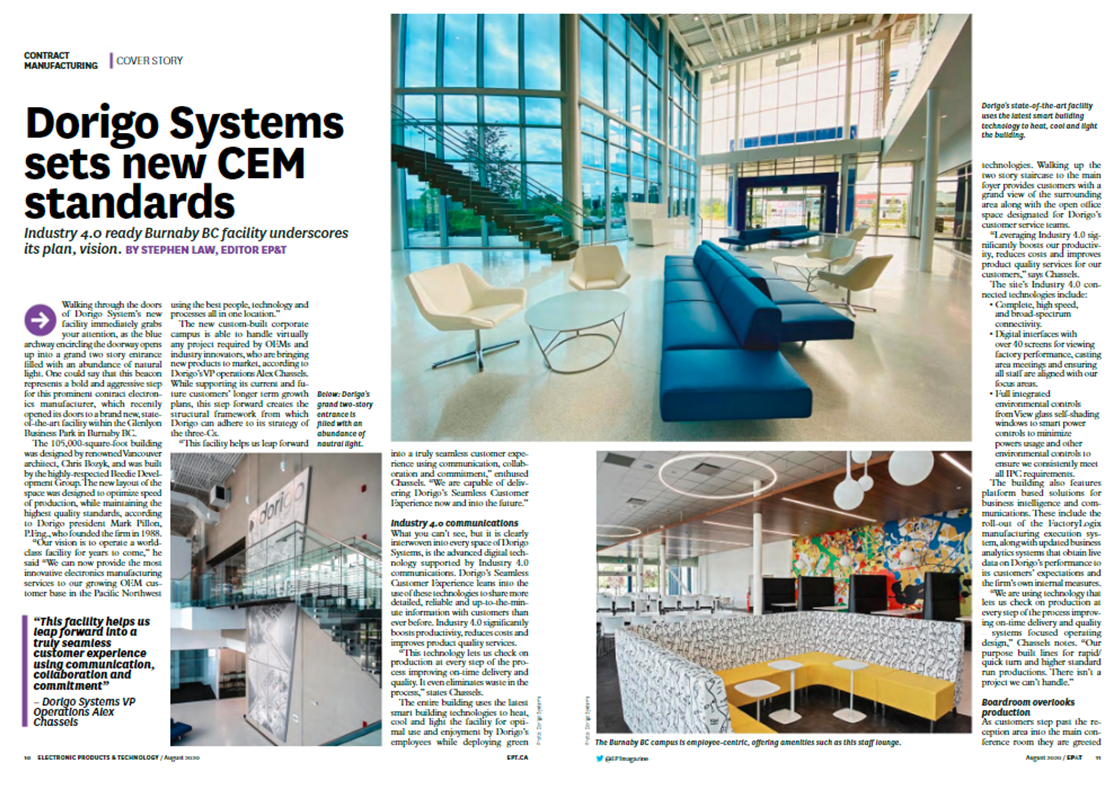 Events/Promotions
The tradeshow booth back wall features the new corporate positioning, brand elements and call to action created using SWOT analysis to differentiate Dorigo from the competition at industry tradeshows. Dorigo team members now wear logoed shirts promoting both the evolved corporate logo and 25th anniversary logo.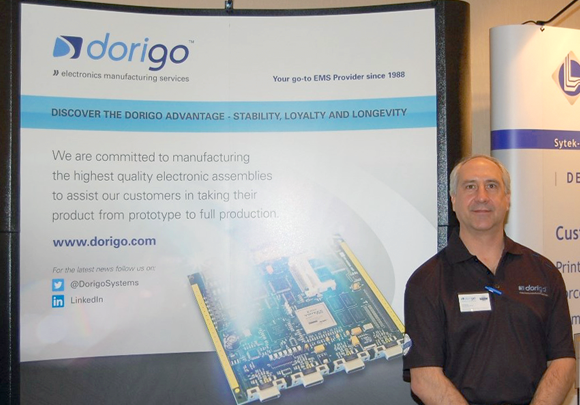 Sales Collateral
Taking an integrated approach, the new Dorigo sales collateral is consistent in look and feel whether a customer or prospect finds them online or at an industry event.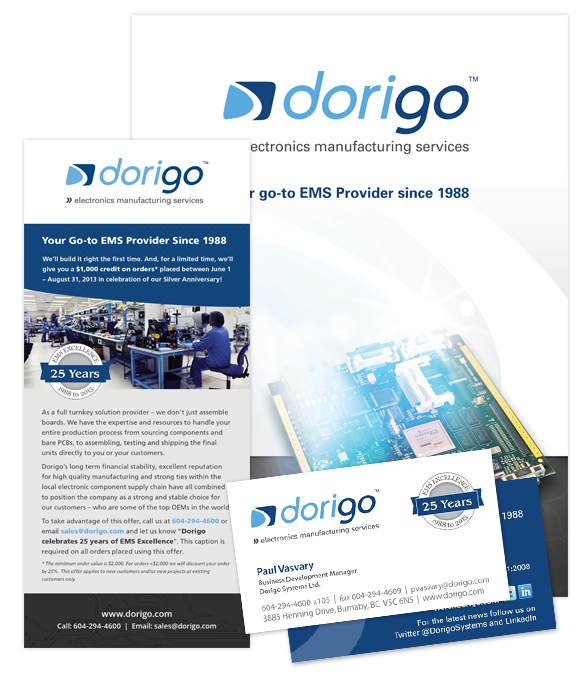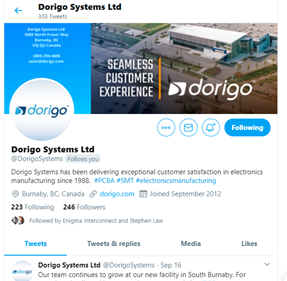 PPM Services
 Marketing Management   
 SWOT analysis
  B2B marketing strategy
  Competitive analysis
  Brand development
  Website development – Eggbeater Creative
  Marketing Communications
  Content Marketing 
  Sales planning & lead generation
  PR/Social media
  Events and promotions – Sudden Impact
  Advertising
 Custom photography – Rebecca Blissett
Visit the Dorigo Systems website →
Had Angelia not been involved as she has over the last year with sales and marketing initiatives, the company would not have advanced as far as it has on those fronts. She is a catalyst for the company as a whole.
Angelia supplied us with valuable marketing insights and initiatives which have been implemented. She has a tenacity to follow through with stated goals. She is definitely a 'people-person'; easy to work with and always energetically engaged. In short, a good consultant to have on any company sales and marketing team. I would not hesitate to recommend her to any company which is looking to rejuvenate their marketing activities.