Branding and Website Design
Pivot Point
Ignite a new business strategy with targeted products and services to dominate a niche market.
industry
Women's Sexual Health and Wellness
B2C
eCommerce
Start Up
Services
Branding
Web Design
Public Relations
Content Marketing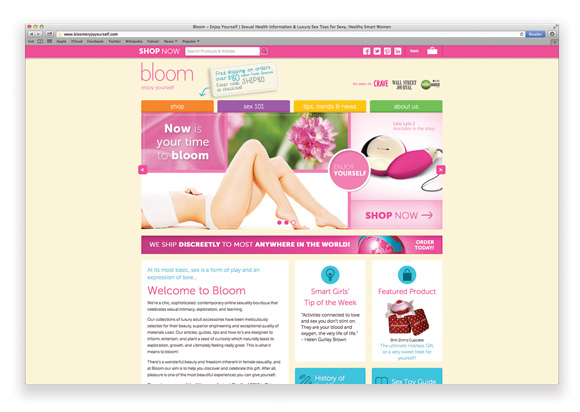 Project Description
Logo & Brand Elements
The Bloom brand was created to be elegant and chic. Colors are warm, welcoming and sophisticated in tone for site visitors.Branding was critical in setting Bloom apart from other ecommerce adult toy stores. BloomEnjoyYourself redefines how women shop for sex toys by ensuring all imagery and brand elements reflect the targeted demographic of affluent women over forty. The torso image has been featured as it is fun, accessible and engaging.

Website
When you are at the forefront of the new sexual revolution, it's important to set the bar higher than the competition. The BloomEnjoyYourself website uses consistent imagery that creates intrigue and curiosity which includes, the torso image, bloom logo, position statement "Enjoy Yourself" and tagline "Sexy, Healthy, Smart".The tasteful use of words and vocabulary throughout the website appeal to an educated audience. The colour scheme is feminine and welcoming while photos and imagery are used make a woman or their partner feel emotionally safe and secure when ordering from Bloom. 
Product Branding
Bloom Essentials Sets were created to be the starting point and voyage of discovery for Bloom clientele. Whether they are new to exploring, or wanting something new to add to their collection, Bloom Essentials Sets are curated to be the most satisfying combination. Logos were created to easily promote these sets through banners, online advertising and affiliate programs
Public Relations and Social Media
BloomEnjoyYourself.com was officially launched in a press release May, 2013. The release was covered by a worldwide audience including the Wall Street Journal and CBS NewsWatch. A social media strategy has been deployed for Facebook, Twitter and LinkedIn.
Click here for the BloomEnjoyYourself launch press release that was published in numerous international publications including The Wall Street Journal.   
Events/Promotions
The BloomEnjoyYourself brand was promoted in events throughout North America. Desktop banners and promotional pieces were created to support the launch of the website.
PPM Services
B2C, P2P Marketing strategy 
Competitive analysis
Brand development
Website development and design
eCommerce 
Marketing Communications
Sales collateral
Affiliate marketing
PR/Social Media
Events/Promotions
Advertising 
Some of the most important assets in driving a business to success are positive attitude, laser focus, and hard work. Angelia has these in spades. She has been invaluable in helping lay the strong foundation for my business, and has been a delight to work with.