Pivot Point
Humanizing technology so it is easy to adopt and use is the focal point for this new Fintech platform. "Welcoming Wealth Management Advisors to the Digital Asset Conversation" is how we are telling the AmiPRO story. 
Industry
Fintech
Digital Asset Investing
Services
Content Marketing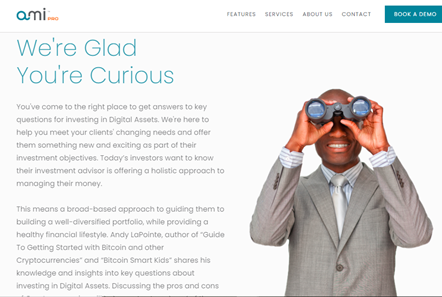 PROJECT Description
Pivot Point Marketing collaborated with Pear Advertising & Design to launch the first phase of the new AmiPRO platform for digital asset investing in Canada. We developed copy that encourages Wealth Management Advisors to join the Digital Asset conversation.
Instead of simply promoting features of this comprehensive investment platform, focus is placed on why advisors need to start offering this new class of investment in their portfolios.
People talk. Not "techy" talk.
The world continues to change at a rapid rate. With this ongoing change, there has been a strong movement towards Digital Asset investing. It's clear that more and more people will be including this new investment class into their portfolios not just as investments, but as a way to purchase goods and services now and into the future.
Showing Wealth Management Advisors how AmiPRO will help them integrate Digital Asset investing into their practice to take advantage of this shift requires thoughtful conversation and relevant examples. It's why humanizing technology is the tone that we've taken for the website. 
Extending the AmiPRO messaging.
We're busy applying the tone, look and feel of the AmiPRO website to all touchpoints for the AmiPRO platform.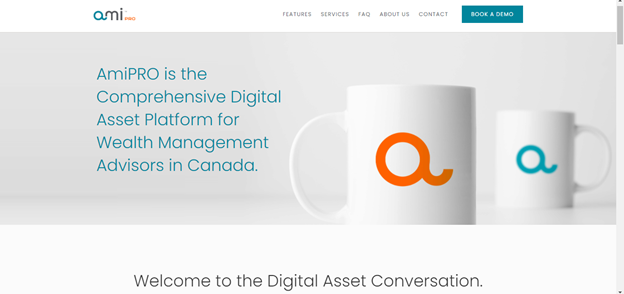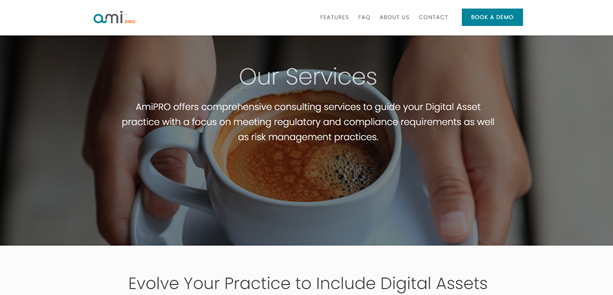 Website
Copy on the website presents key concepts in short snippets.
News Content includes a series of interviews of the management and advisory team at AmiPRO, company and industry news. 
We are so thrilled to have you involved and love the way you message everything. You always capture our intention perfectly.
Sarah Morton
Chief Strategy Officer, MeetAmi Innovations, Inc